Summer Fair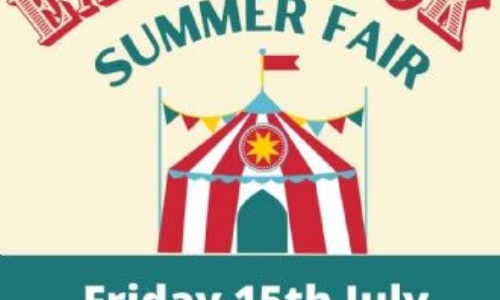 We will be holding our Summer Fair, organised and hosted by the fabulous Friends of Eastbrook, the best PTA anywhere.
Below you can see just a few of the amazing things that will be on offer on the day:
Fire engine - meet some amazing fire crew and tour this life saving bright red fire fighting machine.
Animazing - Animal encounters - pop inside for some quiet time with a range of cool creatures.
Bouncy castle - kids will love leaping around.
BBQ - top up your energy levels with burgers and more.
Ice creams—kids and grown ups can cool down.
Spots car selfie - get your best face on!
Southwick FC Youth - speed goal
Cakes - Sponge, carrot, lemon drizzle, red velvet… whatever you favourite, you will find it here.
Bottle tombola - choose a ticket and find your matching number. Who knows what you might win?
Raffle - there are so many fantastic prizes to choose from. Our PTA have rounded up some great rewards.
Bar and Soft drinks - proper refreshments to keep everyone happy and chilled while the sun shines.
Games - choose your favourite and have a go!! Much more to see and do on the day...
Friday 15th July from 3pm until 6:30pm. We hope to see you all there.